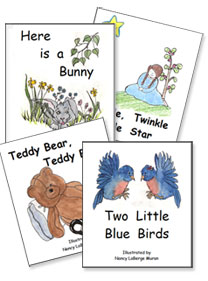 One great thing that I learned early in my teaching career seemed so simple that I was surprised I hadn't thought of it. Give beginning readers songs and nursery rhymes that they already know in book form. They can then confidently point to the words and start figuring out the connection between words they say and words that are written on the page. So smart!
I am thrilled to share another fun site with you to help you do this. If you go to
http://www.nellieedge.com/
, you will find all sorts of resources including free printable nursery rhyme books! I haven't done it yet, but apparently you can sign up to belong to their community for free and get more access to their resources and color printable books.
They have a bunch of cute little books you can print out for you and your child to enjoy. I can't wait to print out a ton of them to share with my son and to share with parents at my workshops! Just remember that all important "picture walk" (paging through the pictures with your child and planting seeds of the right vocabulary) before you read the book with your child.
Here's the direct link to the printable books :
http://www.nellieedge.com/free%20little%20books.htm